The Preset System is one of the most useful features of the Virtual Mix Rack. This system allows you to fasten your workflow by using predefined configuration. If you consider the VMR System not just as a channel-strip, but as a complete Processing ToolBox, then Presets could easily become the starting point of any of your Virtual Mix Rack Plugin instance usage.
The Preset System works the same as it does in the latest Slate Digital Plugins.
Presets are organized in Banks, that you can export as separate files (both Presets and Banks), for archiving or exchange purposes.
The Preset System itself is pretty straightforward and doesn't require any additional explanation, we wanted to keep it simple and easy to use.
Presets are divided in two Layers:
Rack Presets
Module Presets
Rack Presets are handled through the top ToolBar.
Module Presets are handled through the Menu that is appears when clicking on the Preset Label within each Slot.
How to organize and navigate through Presets ?
The Preset System is quite simple. The following actions allow you to interact with the Preset System:
| | |
| --- | --- |
| Clicking on the Preset Label area will open a small Navigation Menu. | |
| Clicking on the Menu Icon on the left will open the action menu. | |
| Clicking on the Arrows on the right will navigate through the Presets of the current Bank. | |
| Clicking on the Save and Save As Buttons will respectively update your current saved preset and open the Save Preset Panel. | |
The A/B Preset Snapshots
The Virtual Mix Rack offers a simple A<=>B System which allows a quick and easy comparison between two Racks configurations.
A/B Snapshots can be controlled and switched from the dedicated controls:

The Plugin is always operating on one of the two snapshots, A or B, the current snapshot being highlighted in yellow. You can easily copy one snapshot to the other by clicking on the arrow between the two buttons.
The A/B Snapshots can also be assigned from the Preset menu.
The Default Preset Feature
The Virtual Mix Rack Plugin has one additional feature which is the ability to Override the Default State of the Virtual Mix Rack on instantiation.
Clicking on the "Default Preset" icon in the ToolBar will open the following menu: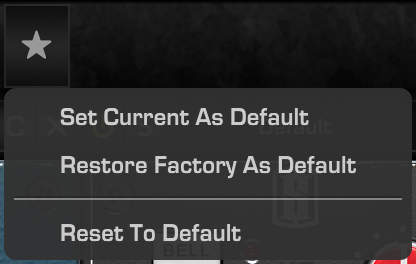 In this Menu:
"Set Current As Default" will overwrite the default Modules configuration with the current Rack configuration.
"Restore Factory As default" will overwrite the Modules configuration with the factory default (an empty Rack).
"Reset To Default" will reset the current Rack instance to the current Default Preset.