Uninstalling THU Slate
1) Download the THU Slate Uninstall.command here:
https://app.slatedigital.com/files/installers/th-u?platform=MAC_OS&version=Uninstaller
Note: You may need to allow this script in the Security & Privacy tab of System Preferences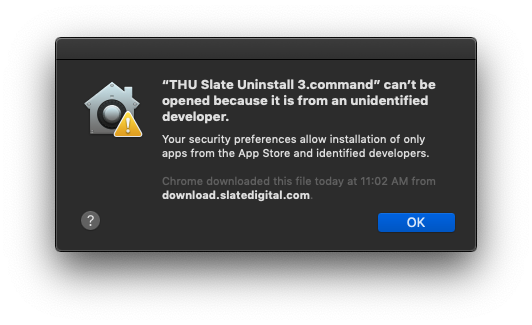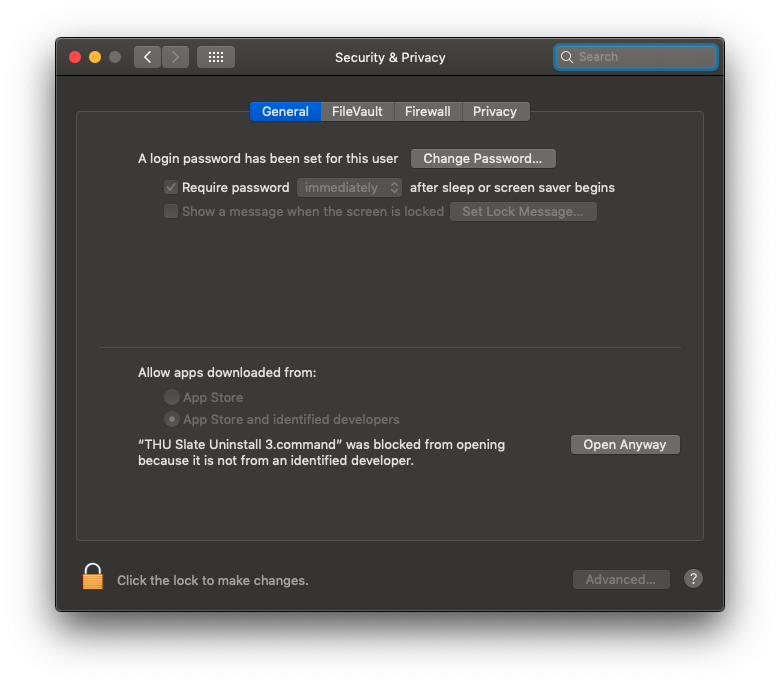 2) Open the "THU Slate Uninstall" and then double-click to open the THU
Slate Uninstall Shell Script.
3) A terminal window will open. Type in your computer password and click
"enter" on your keyboard to execute the command. This will remove THU
Slate from all plugin paths on your computer.
Note: No text will be displayed when typing your password.
4) Lastly, go /Library/Application Support/Overloud/TH-U Slate.
If you have created user presets, make a backup of them and delete the
TH-U Slate folder.
Once complete, run the latest installer for TH-U Slate Edition from our installers page:
https://www.slatedigital.com/installers/
Additional Notes
If you're unable to run the uninstall.command or do not have a computer
password setup, you can manually remove THU Slate from your computer
using the following information:
Navigate to the following directories and delete the THU Slate plugin files.
AAX: /Library/Application Support/Avid/Audio/Plug-Ins/
AU: /Library/Audio/Plug-Ins/Components/
VST: /Library/Audio/Plug-Ins/VST/Overloud
VST3: /Library/Audio/Plug-Ins/VST3/Overloud