What is the difference between USB-C and Thunderbolt 3?

USB-C (also known as USB Type-C) is a connection type that can be used across Windows, Mac, Linux, and mobile devices to transfer data, audio, video, and/or power. It supports various types of USB Protocols, all over one connection type. Most USB-C ports are built on the USB 3.1 data-transfer standard which supports upto 10Gbps.

Thunderbolt 3 is a hardware interface developed by Apple and Intel to handle multiple protocols, including HDMI, DisplayPort, Firewire, various USB protocols, and other data transfer types over one connection. It uses a USB Type-C connector. Thunderbolt 3 can support speeds of up to 40Gbps

Essentially, USB-C is a connection type, and Thunderbolt is a type of USB-C connection. It is important to understand that not all USB-C connections, ports, or cables support Thunderbolt technology. In almost all cases, any connection that supports Thunderbolt will be branded with the Thunderbolt logo as seen below.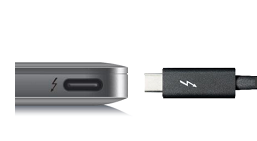 Does my Computer have Thunderbolt?
To know if your machine supports Thunderbolt, you can check a few ways:

1. Reference the manual of your PC, laptop, or motherboard.
NOTE: This is the most accurate way to confirm if your PC supports Thunderbolt
2. Check the port on your computer for the Thunderbolt Logo or Thunderbolt Text.


3. Look in the Windows Device Manager for the Thunderbolt Controller.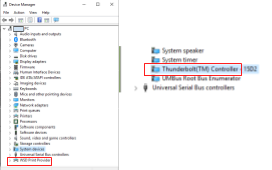 WARNING: Some BIOS Settings may disable Thunderbolt showing in the Device Manager, these settings do not always disable Thunderbolt on your Machine.

Can I add Thunderbolt to my computer?

Sometimes…some motherboards, like the ASUS ROG STRIX Z490-E support Thunderbolt add-on PCIe cards, but these will require the motherboard to have thunderbolt header pins, and some may require specific Thunderbolt cards for Thunderbolt expansion. Slate Digital is not able to assist you with this upgrade process, therefore it is highly recommended that you consult your motherboard manufacturer for information on adding Thunderbolt 3 to your PC build.

In short, if your motherboard does not already support Thunderbolt, either built in or through an add on card, you are unlikely to be able to add thunderbolt to your existing PC.