How To Register Your ML-2 & Redeem Your Software License
• Go to http://slatedigital.com/redeem/
• Click ML-2 (Classic Instruments)
• Redeem passcode (voucher)

Note: The Passcode can be found on your Classic Instruments Postcard (image below)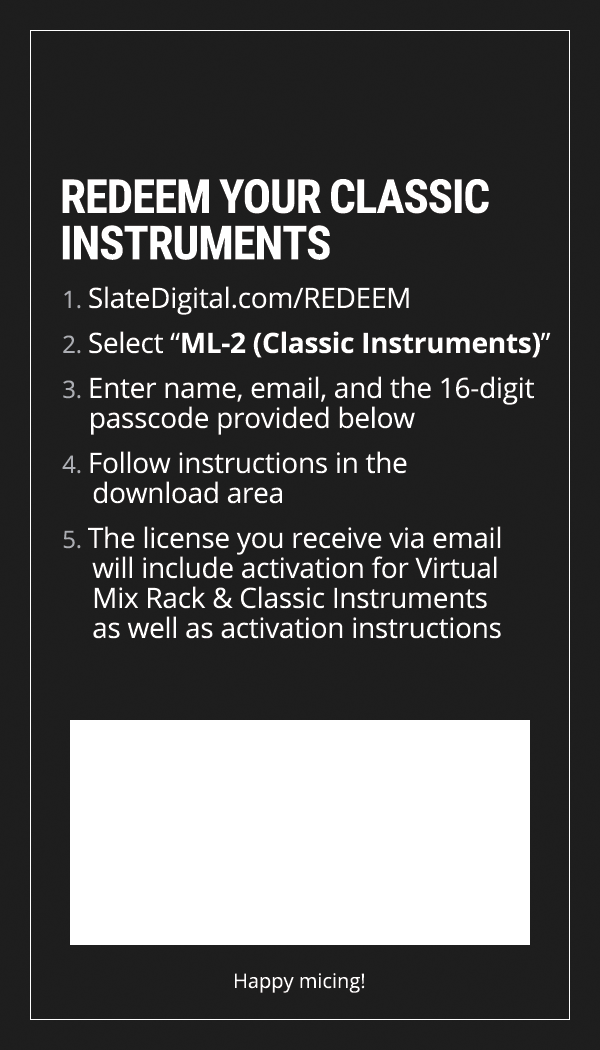 • If you're not signed in, you will be asked to sign into your Slate Digital account.
NOTE: If you do not have an account you will be asked to create one.
• You will need to link your iLok ID in order to deposit the license. If this has been done previously with another Slate Digital purchase you will not be asked to link your iLok ID.
• Once the license has been deposited to your iLok ID you will need to locate the license within the iLok License Manager app. The app can be downloaded for Mac or Windows here: https://www.ilok.com/#!home
• Sign into the iLok License Manager with your iLok ID and iLok account password. Locate the "Virtual Microphone System license within the "available" tab of the app window, right-click and select "activate" in order to complete the license activation/

NOTE: The "Classic Instruments" license can be activated to an iLok USB dongle (2nd or 3rd generation) or an iLOK Cloud Session.
Note: Software downloads are found on the following page: https://app.slatedigital.com/installers